West Bengal Driver Developed A Cloth Bank For Needy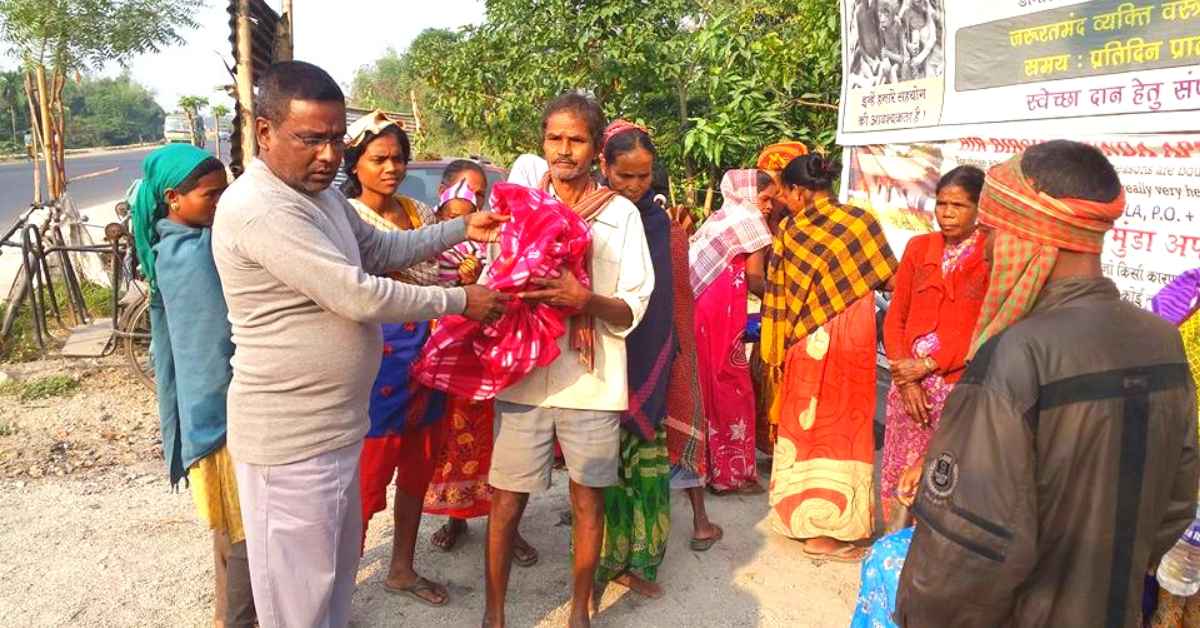 Saju Talukdar, a 47-year-old commercial car driver, runs the Bir Birsha Munda Cloth Bank (BBMC) near Dimdima Tea Garden, nearly 100 km from Siliguri in the Alipurduar district of West Bengal.
Though the clothes bank was inaugurated in January 2017, Saju has been collecting used clothes from people and distributing to the needy and elderly for more than a decade now. Today, the clothes bank has 50,000 units of clothing, and every week Saju distributes around 3,000-4,000 clothes to families in nearby tea gardens, railway stations, bus stops and wherever else people need clothes.
Having to leave his own education due to lack of school uniform inspired Saju to take up this initiative.
Saju shares, "In government schools, guardians have to provide uniforms for their wards. When I applied for primary school, my father, a tailor, took me to a market where they sold old clothes. He took my measurements, stitched a pair of white shirt and black trousers, and sent me to school in that uniform. After giving my Class 5 half-yearly exams, my uniform, made of old clothes, got torn. With my father unable to make another uniform in time, I had to drop out of school."
This regret of not being able to finish school always lived in his heart because Saju loved studying and would often get good results.
"What happened to me, shouldn't happen to anyone else. That's why I started this initiative," he adds.
Though Saju joined his father's tailoring business, he soon lost interest. Then, he came across people who collected minerals from the river bed, which trucks and other vehicles then transported to the factories. After developing a good relationship with the drivers, he learnt how to drive and began driving himself.
Having worked in this business for little over a decade and earning anywhere between Rs 400 and 700 per day, he quit in 2008 to drive for commercial vehicles full time. During his daily rides, he saw people scrounging for food from dustbins, roaming around half-naked and living a miserable life.
"I saw my childhood in these people and decided to do something for them. I started collecting old clothes; it was a big challenge going to each house in Birpara, in the neighbourhood of New Jalpaiguri and Siliguri, asking for old clothes. Some people would give, others wouldn't, and there were those casting aspersions by asking 'What's the guarantee you won't sell these off.' Somehow, I managed to make things work," recalls Saju.
He cycled to the tea gardens and visited the less fortunate colonies. There, he observed who needed the clothes the most. He would then approach the shanties where the people lived and distributed the clothes.
he thing with old clothes, says Saju, is that they keep lying around as garbage in a lot of households, and these families don't know what to make of them, where to use them or whether to throw them away.
"Clothes from well-to-do families don't get spoilt that easily as they buy branded stuff, wear it for a few months and then discard them. Same goes for children's clothes for they are worn for a short time as they outgrow them quickly. So, the quality remains intact for the most part. Hence, I thought it would be good to put these clothes to use again. So that's how it started, and gradually a lot of friends started calling me to give away their old clothes," he recalls.
However, the next step was to expand the outreach of the initiative. That's when the idea of starting a clothes bank emerged.
In January 2017, Saju started BBMC at his home and put up a signboard. The people who noticed started donating clothes.
To collect and distribute these clothes, Saju bought a four-wheeler in 2015, on which he would ferry passengers to Siliguri and different parts of Alipurduar and Jalpaiguri district.
"My method of collection is very different. Let's say if I have to go to Siliguri and drop someone at the airport, and am coming back without a passenger. I inform my friends in Siliguri through Facebook a day before, and they collect all the clothes in one place. I pick up the clothes on my way back. Some people send clothes on a bus and even through courier. Earlier collecting the clothes was a lot of trouble, but now it's easier," he says.
"I put up separate stalls for trousers, saris, kid's wear, churidars, etc. Till I set up these stalls, no one touches the clothes. I sort and arrange them first. Then, I tell people to take whatever they need. Even if someone takes extra clothes, I do not mind. During winters, we also receive around 3,000 blankets and quilts from different organisations. This is distributed hand-to-hand," he adds.
He has also adopted two tea garden villages—Bandapani in Alipurduar district with a population of around 650, and Caron in Nagarkata subdivision of Jalpaiguri district—which has a population of a little over 1,000. Saju regularly delivers clothes to these people during festivals, and warm clothes in winter. Whatever people donate, he gives away.
At this point, Saju gives away close to 3000-4000 clothes every week to the needy.
He makes absolutely no money out of it.
Supporting Saju in this endeavour is his wife Mamoni Talukdar, sons Alamgir and Sohel, one in college and the other in high school. "They have supported me wholeheartedly," he claims.
Besides the clothes bank, Saju also runs a shelter home—Heaven Shelter Home—for the abandoned, where he also provides food, and clothes to the homeless.
"These people have no information about their families or relatives. They don't even know their address. The first thing I do after sheltering them is to find out where their families are. On occasions, they have been reunited with their families, but 14 remain with me. I feel people abandon their old parents because they don't have the patience or the means to take care of them, and those are the people residing in the shelter home," says Saju. Some drop them at the shelter home, while others, he finds on the road.
To run this shelter home, Saju receives a lot of assistance from not merely his friends, relatives, and local residents, but also local government officials, who often drop in with kilograms of rice. Thanks to his presence on social media, he also receives regular contributions from generous people from around the world.
At present, Saju is in the process of getting his shelter home registered as a trust for legal purposes.