Saalumarada Thimmakka: The mother of Trees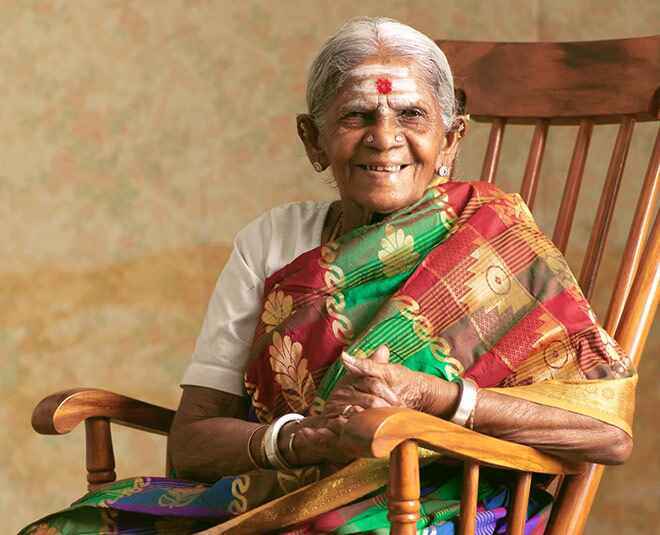 106-year-old environmentalist Saalumarada Thimmakka is the oldest woman on the list for planting the 8,000 trees to fill the void that had been left after she realized she could not bear children. She has also won the prestigious Padma Shri.
How it all begun?
Born in a poor family of Hulikal village in Magadi Taluk, Ramnagar, Karnataka, she never had the opportunity to go to school or have any kind of formal education. She was known by the name of Thimmaka during her childhood. She started working at an early age as a quarry labourer.
In 1928 she was married to Bikkala Chikkayya who was a labourer himself. After several years of marriage when the couple could not have any children, to fill the emptiness in their life the couple decide to plant banyan trees and raise them as their kids. This is when it all started.
In 1948, Thimmakka along with her husband made up their mind to plant trees from their village in Hulikal to Kudoor. Thimmakka and her husband thus commenced a journey of pure dedication, untiring, and unselfish love of planting trees and nourishing them till they bore fruit.
From Thimmakka to Saalumarada Thimmakka
Thimmaka and her husband decided to plant trees from their village to the next village, Kudoor. The choose a stretch of 4 km and there were no trees at all in the locality. Since there were plenty of banyan trees near her village the couple decided to plant the trees along the roadside.
They planted 10 young banyan plants in the first year and increased the number to 15 in the second and 20 the year after. The couple not only planted them but tended them to maturity while protecting them from herbivorous animals by fencing around them with thorny bushes.
Every morning after finishing their regular work the couple watered the plants as a part of their daily routine and when they used to run out of the water, they used to fetch it from nearby ponds and wells. They use to cover the whole stretch on their feet watering the plant while returning on their way back home.
They plant the young saplings during the monsoon season so that they could have adequate water for their growth. The couple went to the hardship out of sheer passion for helping the environment and humanity. This never changed their financial status but they never lamented on their poverty nor flaunted about their work.
She and her husband plant the young saplings during the monsoon season so that they could have adequate water for their growth. The couple went to the hardship out of sheer passion for helping the environment and humanity. This never changed their financial status but they never lamented on their poverty nor flaunted about their work.
An undying passion
Thimmakka's husband passed away in 1991 but that did not discourage her in any way. She pursued her mission with the same determination and courage. In spite of the fact that heavy rain had washed away her house that year, she with the help of well-wishers managed to rebuild the mud house and applied for a widow pension of merely 75 rupees at that time.
In Kannada language rows of trees are known as Saalumarada. It was then that Thimmakka was given the name Saalumarada Thimmakka. It was given to respect her work towards planting the trees and saving the environment, and the hardship the couple faced during the process. The management of the trees these days is taken care of by the Government of Karnataka.
Additional community services by Thimmakka
She has done much more than planting trees. She is actively involved in the state and national environmental protection campaign.
Thimmakka also is involved in many other social activities. This includes building a rainwater storage tank for the annual function of her village. She has set up a trust for building up a hospital in her village.
Saalumarada has been an active campaigner in circulating the message of afforestation. She believes every human being on earth should plant trees. She still faces a life of financial struggle. However, this never deterred her spirit from helping mankind.
Accreditations and Citations of Saalumarada Thimmakka
Saalumarada Thimmaka has been a role model for environmentalist all over the world. In 2016, BBC included her in their list of top 100 influential and inspiring women. She is a great example who showed the world how uneducated women can make a big difference to the betterment of society. She achieved all these with sheer passion and undaunted hard work.
Padma Shri Award
Thimmaka was awarded Padma Shri, the fourth highest civilian award in the country in 2019. it is at the age of 106 that the mother of trees got the award. However, she receiving the award will be fondly remembered for a protocol violation which the President of India, Ram Nath Kovind considers as a touching moment.
When the President handed over the award, Thimmakka, put her palm over the President's forehead as a gesture of blessing.
In addition to Padma Shri, Saalumarada Thimmakka is honoured with many awards for her unwavering efforts towards protecting the environment. She has bestowed with titles like Vanamitra, Nisargaratna, Vrikshapremi and Vrikshasri. Below is a list few such awards:

1. National Citizen Award- Government of India -1965
2. National Indira Priyadarshini Vrikshamitra Award-Government of India -1997
3. Gait Free Brabiency National award -2006
4. The NADOJA award, Hampi University -2010
5. Karnataka Rajyothsava Award
6. Karnataka Rajya Parisara Award
7. INDIRA RATNA Award
8. The GREEN MOTHER Award
9. Women Empowerment Award
10. Mother of Tree Award
11. PARISARA PRIYADARSHINI Award
12. Dr. B. R. Ambedkar State Award
13. Sahara India Puraskar
14. Jagajyothi Basavanna Puraskar
15. Green India Puraskar
16. Dr. Shivarama Karantha Puraskar
17. VAGDEVI PARISARA RATNA Award -2012
18. Green Champion-2012
19. Udaya Film Award (Green Award) -2013
20. Pampavathi Parisara Award
21. VRIKSHA VARSHINI Award-2003
22. PARISARA RATNA Award-2013
23. Sanjeevani Award
24. Suvarna Shri Award
25. Kaveri Award
26. Vijaya Vithhala Award
27. Vachanashri Award
28. SEVAK GREEN REVOLUTION Puraskar
29. Svananda Kala Award
30. Shreematha Award
31. An award in the All India Jain Women's Conference for her total achievement.
32. Sagar Award
33. Samaj Seva Rathna Award
34. Vanasiri Rathna Award
35. Vanarani Award
36. Mother of trees Award
37. Vrikshamathe Award
38. Vishwachethana Award
39. KENGAL HANUMANTHAIAH Award
40. Vishalakshi Award
41. C.M.S.B NATIONAL AWARD
42. VISHWASHRI AWARD
43. Kusumashiri Award
44. Garuda Award
45. Vishwathma Award
46. Kalyana Siri Award - 2016
47. Sri Krishna Anugraha Award – 2016
48. Bheem Rathna Award – 2016
49. Basava Siri Award – 2016
50. Naada Chethana Award
Thus, after having received hundreds of awards for her incredible service, Saalumarada Thimmakka lives a fulfilled life. A humble natured simple woman, Saalumarada Thimmakka is living with her foster son Umesh now. She is 105 years old.
Her selfless and magnificent service in preserving and protecting the environment is a role model to all of us.